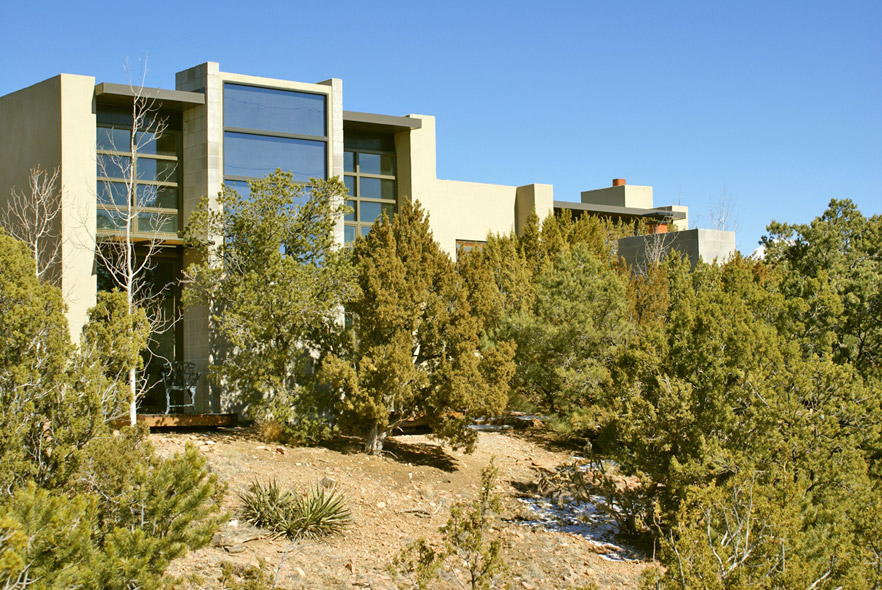 17 Rancho de Bosque South | Lamy | 87540
Architecture: Falk Architecture
Offered by: Melissa Adair of Santa Fe Properties
Built 2012, 3 bedroom, 3.5 bathroom, 5000 square feet, Listing Price: $1.5 million
Project Parti Pris:
To create an elegant Japanese inspired modern and very environmentally friendly residence and studio and to celebrate the eco-friendly approach in the design of the compound.
Site:
A beautiful hilly and mostly wooded view site was selected. The trees and topography were carefully surveyed. The plan was designed around the locations of trees and drainage patterns. The design solution is a series of "pods" that are interconnected via steel bridges. This approach allowed for the retention of all the existing trees and the existing drainage patterns through the site. The levels of the compound were designed to complement the varying hillside elevations and minimize grading and destruction to the natural site.
Materials:
The construction utilized many very eco-friendly materials. It is built of AAC concrete block, antique roof timbers, steel structure and clay and wood fiber plasters. All windows are commercial aluminum windows. All of the roofs, irrespective of slope, are corrugated metal.
Daylighting:
The house is brightly filled with daylight through the extensive use of solar shaded low-e glazing. In addition there are 16 shoji style Kalwall wall panels and skylights throughout that provide high quality natural light to all areas throughout the day.
Energy usage:
The plan of house is focused on a strong south axis. Winter solar gain is maximized using solar masses and four large trombe walls. Summer solar gain is minimized through the use of overhangs and solar shading awnings. The linear plan and level changes from south to north also afford great cross-ventilation and natural heat distribution through natural chimney affect. The house is heated through the use of radiant floor slabs and in addition each pod has a high-efficiency Scan wood stove for localized comfort. Decreased Winter energy usage through the lowering of overall ambient temperatures is afforded by 8 radiant heating zones and the Scan stoves.
Water catchment:
The rainwater from all of the compound roofs is collected through an elaborate system of internal gutter and drains. This rain water is collected in a 12,000 gallon cistern located below the studio. Through an extensive system of filters this cistern water can be re-used for domestic purposes in the house or used as non-chemically treated, high nutrient value rain water ideal for sustainable gardening.
Water re-use:
All the water used in the compound (gray and black water) is recycled through the use of an on-site Clearstream 3 stage treatment system. All of the water from the Clearstream system is distributed to the landscaping via an extensive buried drip system. There is no septic tank or leach field to pollute ground water. All waste water from the studio is separately cycled to a separate percolation bed to avoid any contamination of waste water to be re-used. In addition, The artist's process was also modified to use environmentally friendly materials in lieu of more typical painter's products to avoid the need to dispose of toxic waste products.
Photography by Robert Douglas – Douglas Arts